As a women, we need to take extra care of our body, especially during our monthly menstrual period. That is the time when our body are at the most vulnerable stage and require extra care, hygiene and protection. After all we only have ONE Vagina to take care of.
There are plenty Sanitary Pad brand in town. No doubt there are tonnes of varieties to choose from in market. To be honest I am not that particular with any brand until I came across this local brand called "Favorite" Sanitary Pad.
Favorite range has 3 types to cater for our everyday needs:-
Highlighted features:-
Few highlighted features such as "Nano Silver Ion" that would works as the most powerful anti bacterial effect due to its strong penetration into the bacteria structure. Its bacteria killing effectiveness is hundreds of times more than normal silver. Nano Silver has been widely used to treat burns, trauma, infections, acne, skin diseases, gynaecological diseases that is caused by bacteria and fungus.
Womens uterus is always in a closed condition and will open up during menstrual period. During that time the opened uterus will be susceptible to bacterial infection. In order to prevent bacterial infection, sanitary pads must have anti bacterial function, such as Nano Silver which removes 99.9 percent of germs.
Besides, it has "Far Infrared" element.  Our body is greatly composed of water and when 4-14 micron of Far Infrared Rays coming in contacts with the body skin cell, the energy will be absorbed and activates the water molecules and cell structure. As a result, this will promote the expansion of capillaries and therefore improve blood circulation and overall body metabolism. Far Infrared Rays is able to promote cell activation, blood circulation and pain relief. The Far Infrared Ray contained within the sanitary pad will help to regulate overall body cell and stabilize the women's menstrual cycle.
In addition to the above, this sanitary pads has "Magnetite" that is said to increase physical energy, vitality and endurance. Magnetite is also said to help strengthen the circulatory system and to help in the treatment of blood and bleeding disorders. It also helps the discharge of toxins during periods and raises the bio-enzyme level.
The Favorite sanitary pad surface has "Menthol" effects that would gives cooling effect which helps relieve itchiness. It also offers long-lasting freshness and comfort and also would prevent Analgesic, Antipruritic and anti-inflammatory effects.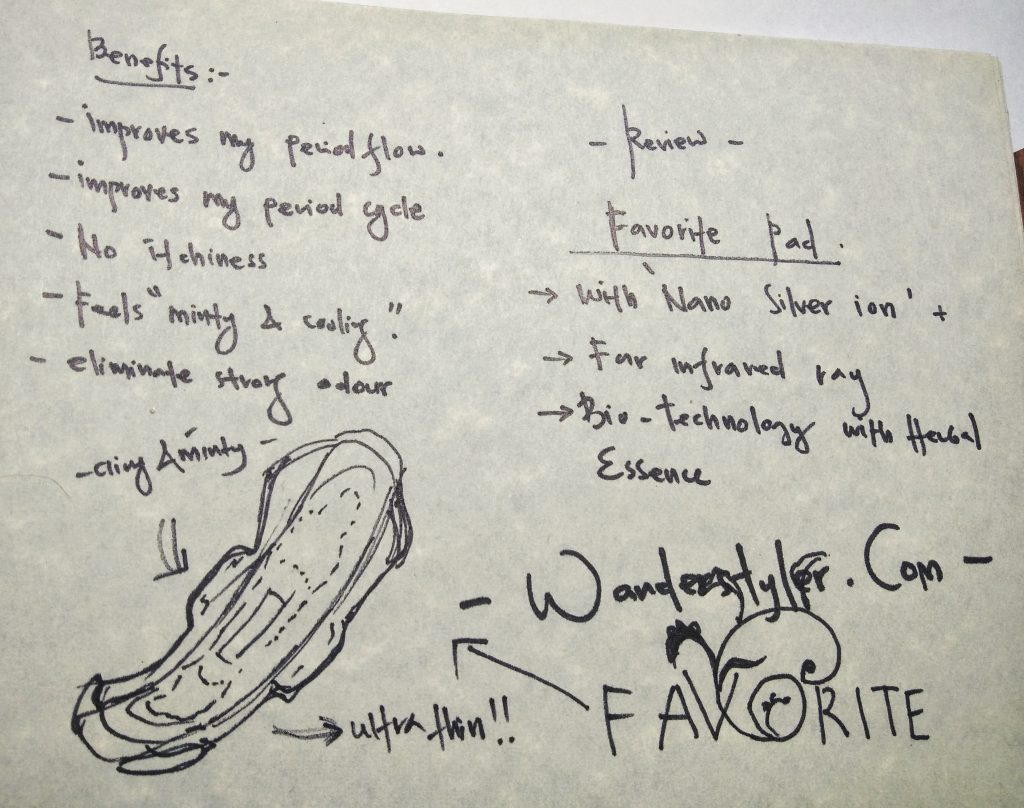 My Verdict:-
When I wear this pad, first thing I noticed is the "cooling effect" at my Vagina. I never experience any brand that has this element.
The cloth / material used is skin friendly as I don't encounter any itchiness and discomfort at my inner thigh.
It eliminates strong odor (blood smell can be irritating).
It has strong absorbency and no leakage at the edge of the pad. This is depends on how heavy the flow and how often I change the pad.
My period always not consistent before and ever since I use this pad continuously for  6 months plus, I can feel that my period flow and cycle getting improves.
For me, the price is a bit at a high side. however, with the element mentioned, and for the sake of improving my menstrual cycle, I treat it as an investment for my body.
Where to purchase it? You may purchase it Online at Favoritepad.my. For starter, you may purchase their Trial Set at RM45 (usual price is RM46.70) for all three types.
Which brand that you are using? Do share with me at the comment down below. Until we meet again in my next post. XOXO